Every product that launches into the market goes through four stages of the product lifecycle: introduction, growth, maturity and decline.
When the product reaches the decline stage, profitability will start to fall until it is no longer commercially viable to continue production, and it will most likely be discontinued.
In some cases, the original product will be replaced, either by a newer version with updated features or design style, or perhaps by a brand-new product. Car manufacturers, for example, update models every few years. The name continues but the older models are phased out, replaced by newer versions with updated technology and more modern designs. Eventually the model may be discontinued to be replaced by a brand new model e.g. Ford Escort – Ford Focus.
While the span of each product's lifecycle is unique, (some tend to spend more time in the maturity stage), they will all eventually reach the decline stage. There may still be some core loyal customers, keeping the product afloat, but overall demand will continue to fall.
Think back to products that used to be popular; cassette players, typewriters, video recorders, even the Nokia 3310 (remember those? 😊). They will either have a very small production run now or will have ceased production completely. Eventually only second-hand products will be available, perhaps cherished by enthusiasts and collectors.
WHY DO PRODUCTS DECLINE?
Decline is a natural part of the product lifecycle. Typically, when a new product is launched, it will be expensive to manufacture and therefore expensive to buy. As demand grows and production costs fall, competitors will start to sell rival products and the marketplace will fill up. The product will experience a period of growth followed by maturity.
There are several factors that may cause a product to decline, such as saturation of the market or the introduction of more innovative products, which will lead to a fall in popularity.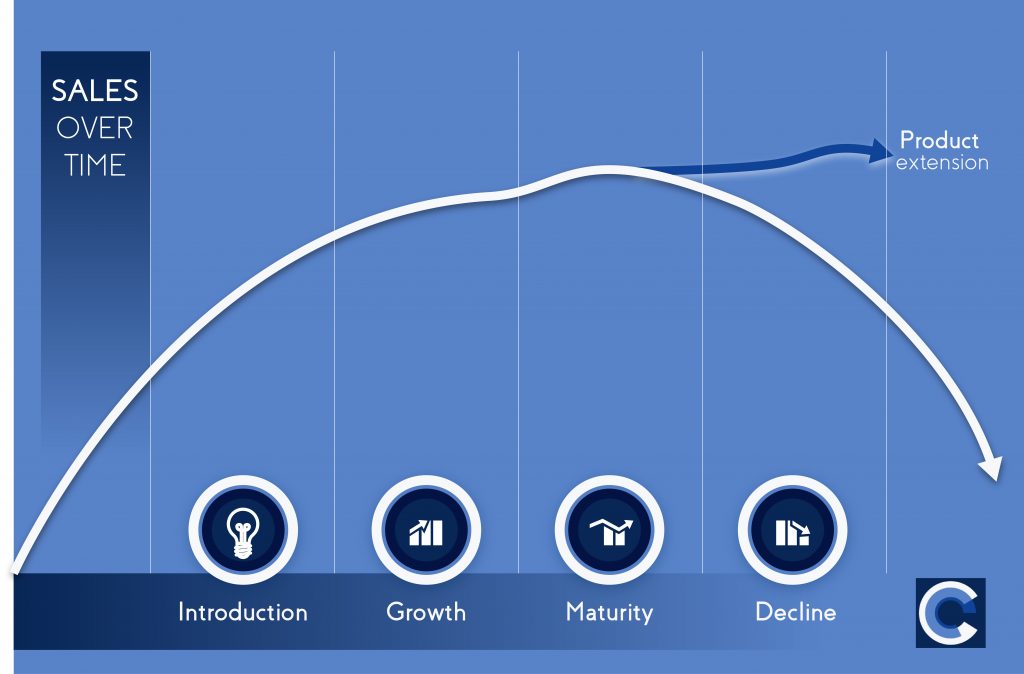 Some companies will try to keep a dying product alive for as long as possible – clearance sales, special deals etc, but this is simply delaying the inevitable as the product will continue to lose market share until it doesn't make commercial sense to continue production.
HOW TO SPOT IF YOUR PRODUCT IS DYING: 8 SIGNS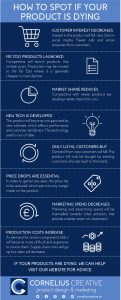 1. Customer interest decreases
The interest in the product will fall – less chat on social media, fewer calls and email enquiries.
2. Competitors are launching 'me too' products
Competitor products will be launched that imitate the original. Production may be moved to the Far East where it is cheaper to manufacture.
3. Market share reduces
Competitors with newer products are stealing market share from you.
4. New technology launched, product is outdated / unsupported
The product will be unsupported by new software which will affect performance and customer satisfaction.
5. Product is only bought by loyal or existing customers
Demand from new customers will fall, the product will only be bought by existing customers.
6. Necessity to drop price to garner any sales
The only time sales are made is when the price is reduced, which will eat into any margin made on the product.
7. Decrease in marketing spend
Advertising spend will be channelled towards other products that provide a better return on investment (ROI).
8. Production / supply chain costs increase, while sales do not
As demand falls for certain components, it may be more difficult and expensive to source them. If you notice production costs are going up, yet sales are going down, it's because the product is declining.  
WHAT TO DO IF YOUR PRODUCT IS DYING
Before a product reaches the decline stage of the lifecycle, the next generation product should already be in development. This is especially important if you operate in an industry where new technology is regularly released. Ideally, you should be working to a rolling three or five-year roadmap, with all future product launches mapped out.
Working on the next product development will ensure that your business and its products are always in demand, and keeping up with competitors to protect (and increase) your market share.
However, if your next generation product is delayed, there are some ways you can exploit the existing, dying product to generate some more sales – think of it like using a defibrillator on your product to restart its heartbeat.